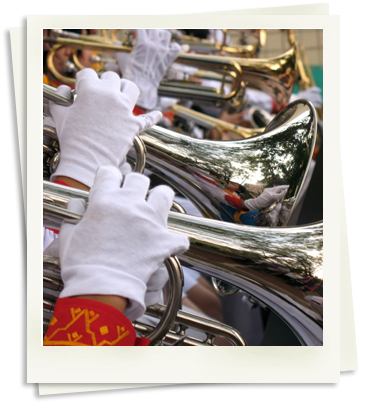 For decades, Portman's Music has been the Southeast's resource for quality band and orchestra instruments, service, accessories and lessons. Each year we help hundreds of parents give their children a great start in school music. We'd love to help you, too! Please call or visit us soon. We'll answer your questions and make it as easy and as economical as possible for you to get the perfect instrument for your child! In the meantime, follow these links to learn more about selecting the best instrument for your child as well as keeping them in tip top performance shape.
FAQ - Frequently Asked Questions:
How can I obtain an instrument?



At most schools that we visit, we hold a "Parent Meeting". This is a meeting that is held outside of school hours to sign children up for band and allow parent's to obtain an instrument for the upcoming school year. Please contact the band director or strings teacher at your child's school or call our office at 800-241-0101 to determine when and where the parent meeting will be held.
From first year students: Should I return my child's instrument for the summer?



The summer is recommended by Band Director's as the ideal time to practice and play FUN music that the student can choose and enjoy. This prevents the student from falling behind, and helps them progress much more quickly as a player. As you make your payments, you are also accumulating credit that can be applied to the purchase of a new instrument in the fall. Keeping your instrument is strongly recommended for these reasons. Visit your local Portman's store to find some music your young player will enjoy playing this summer.




If the child is not going to play next year, 

contact our office

 to arrange returning the instrument and canceling your rental agreement.
Where should I return my child's instrument?



Please contact our office at 800-241-0101 to arrange returning the instrument and canceling your rental agreement with no further obligation. Please remember that dropping your instrument off at the school does not necessarily mean that you have returned it. Call us and we will work with you.




Click here to download our return ticket form

. Print and complete this form and send it with the instrument to one of our 4 locations.