BAND DIRECTORS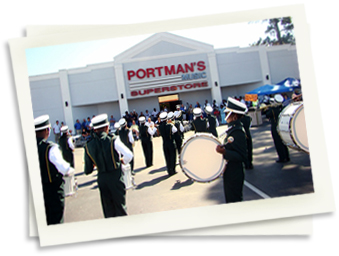 Serving Band Directors and their programs is a prime mission for Portman's. Our goal is to provide you with products and services that lighten your load and allow you to carry out your important work.
We are striving to make our service to you more direct and more timely. You are invited to use this section when you want to communicate to us about your product and service needs. You can also communicate to us about your accounts and your repairs. We will put you in touch with your road service person. We want to hear about any comments you can offer on the service you receive from us, as we only want to improve in any way that we can.
We want to hear from you. All comments will go directly to the CEO of the company.
This email will be monitored at least twice daily. We will forward your inquiries to the person best able to help you, and copy you on the email so that you will have a direct contact for every situation.
We will also endeavor to post news of interest to band directors on this section of the site.
START MORE PLAYERS THIS YEAR
With Portman's as a recruiting partner, we guarantee that you will attract a larger number of more qualified beginners into your band.
Our approach is exciting, contemporary – and effective.
You drive the program – we do the work.
Reach the right kids at the right time – and get parental support.
For information on how Portman's Music can help you with your school band recruiting this year, email Mark Alexander at [email protected] or call 800-241-0101.
Contact Us